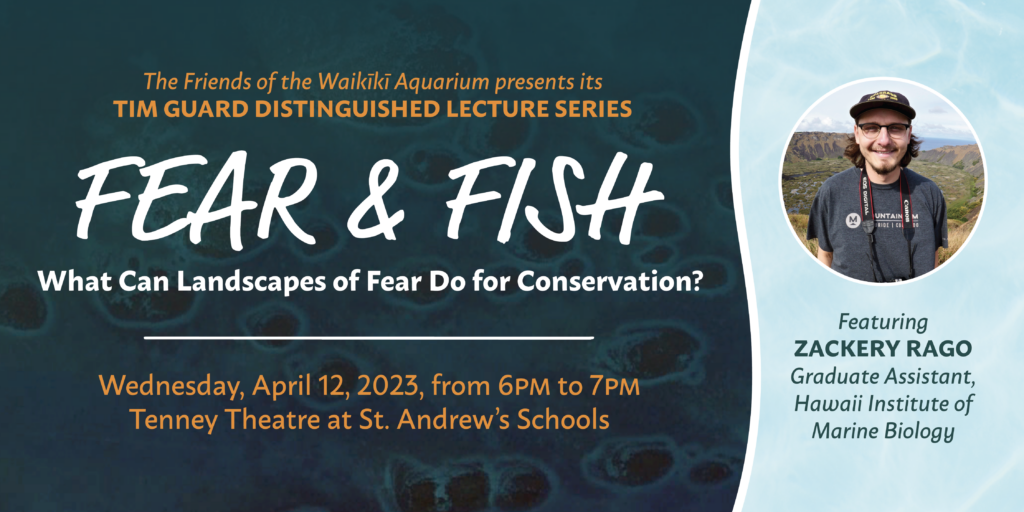 The Friends of the Waikiki Aquarium hosted its 2023 Tim Guard Distinguished Lecture Series on April 12 in partnership with St. Andrew's Schools. Zackery Rago of Hawaii Institute of Marine Biology presented on the topic, Fear & Fish: What Can Landscapes of Fear Do For Conservation? The full presentation can be viewed below.
Lecture Description:
Reef halos are unique patterns seen on coral reefs around the world and can even be seen from space! However, how these mysterious patterns form is still unknown and researchers at the Hawaii Institute of Marine Biology are trying to unravel their meaning. The leading hypothesis is that predator-prey interactions, specifically how small herbivorous fish perceive predation risk in their environment, might be the driving force behind the halo patterns. This presentation will explore the role that fear plays on coral reefs and how it may lead to new tools for conservation.
After graduating from the University of Colorado with a B.A. in Evolutionary Biology and Ecology, Zackery Rago worked for a marine imaging technology company. In 2017, he was featured in the Netflix Documentary Chasing Coral, where he helped film the first-ever time-lapse of a coral bleaching event. After the film was released, he worked extensively with science communications and youth outreach programs. Rago is currently pursuing a Ph.D. in Marine Biology at the Hawai'i Institute of Marine Biology.